Adventures In St. Louis
Experience St. Louis, a city filled with fun for kids and kids at heart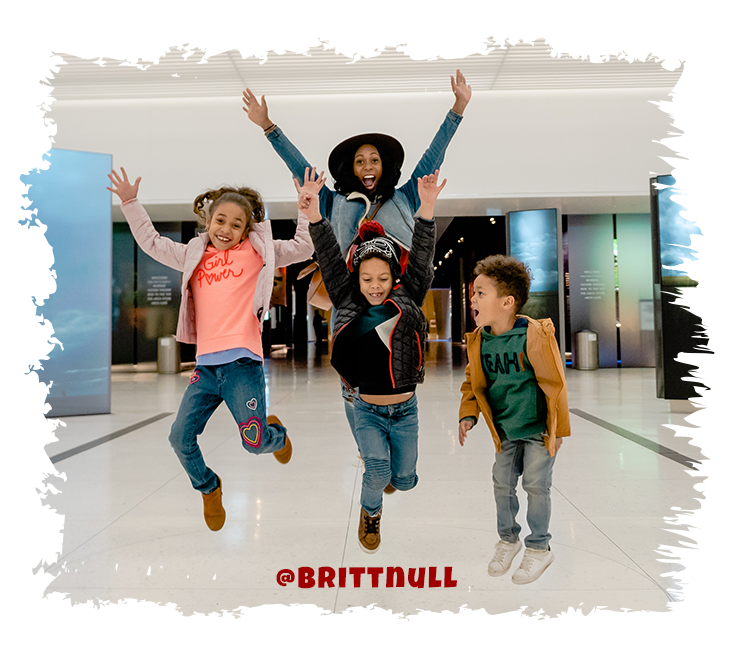 By Britt Null
Lifestyle Digital Content Creator and mother of three who's finding joy in the "journey" and sharing along the way.
Hey friends, my name is Britt Null, and I'm a lifestyle blogger/YouTuber as well as a mama of three! With a seven-year-old, six-year-old and four-year-old, sitting at home on the weekends can get boring fast. So, my go-to weekend mantra has become "Let's adventure." For this particular weekend, a road trip to a city with an easy drive and lots to do was the goal, and St. Louis the perfect solution. So with the littles packed and the car topped off, we hit the road for our next big adventure.
The gateway to it all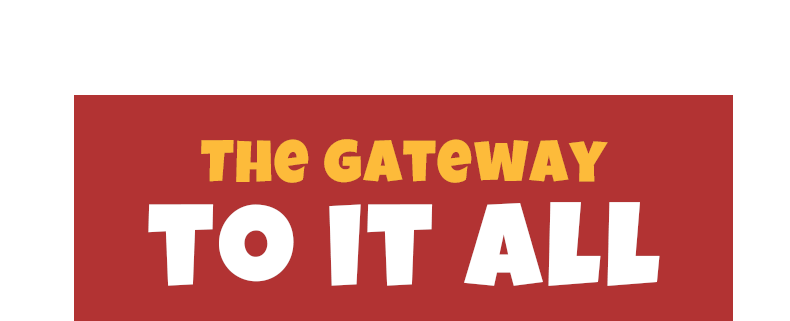 After arriving in St. Louis, we checked into the Drury Plaza Hotel downtown—a super convenient location that made attraction hopping a breeze—and then headed off to our first stop of the day, the Gateway Arch. My kids were thrilled to visit the arch, but slightly nervous and unsure of how we'd make it to the top. After snagging some fun pictures in front of the arch, we ventured inside. My kids' uncertainty quickly turned to excitement as they explored the inside of a replica of the tram they would soon ride to the top.
The ride up the arch was intriguing, and once we made it to the very top we were all in awe. My youngest kept saying, "I'm just so excited to be up so high!" The day was bright, and the sky was clear, so we were able to get a perfect view of the city. Our weekend was off to a perfect start!
After visiting the arch, we had worked up a pretty big appetite, and it didn't take long to realize we were all craving the same thing—pizza! Pi Pizzeria came highly recommended by St. Louis locals for three reasons: great prices, cute vibe and of course fantastic pizza. Turns out the locals were right: This spot was a major hit. Everything on the menu looked tasty, but we settled on a traditional Cesar salad served family-style and the hummus platter for our appetizers. The housemade hummus was delicious, and I was shocked that my kids (who aren't always fans of veggies) enjoyed dipping their carrots and flatbread in the hummus. Next up was the pizza – we ordered a thin crust pepperoni as well as a deep dish style with sausage and peppers. They were both were so incredible that we ate every last bite. Naturally, we had to finish up with dessert and we decided to go with two orders of the chocolate skillet cake. Let's just say I was dreaming about that skillet cake for the next few nights!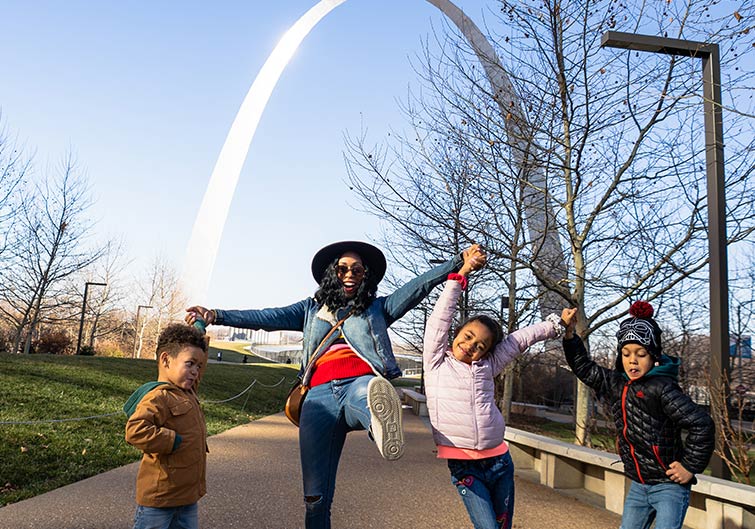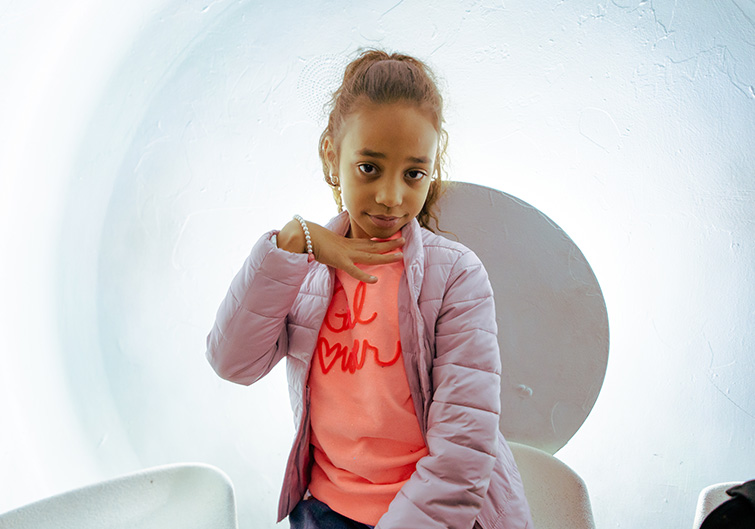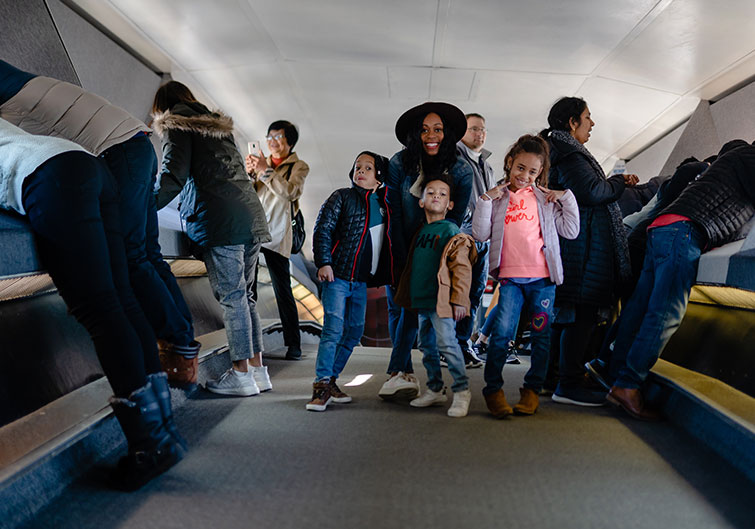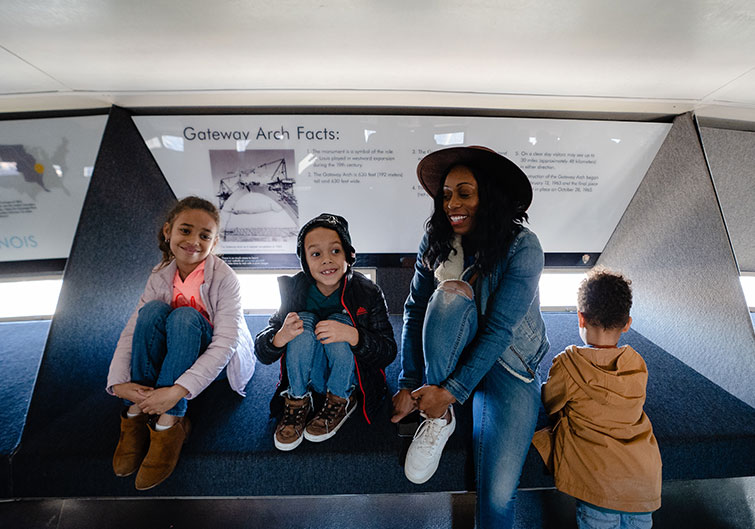 Dive under the sea and into more fun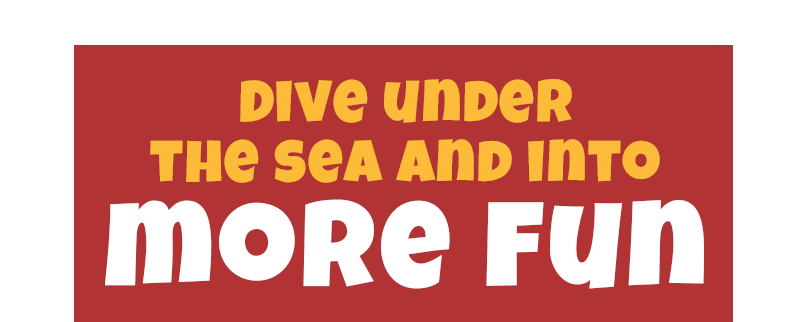 After a goodnight's rest and some breakfast, we were charged up and ready to explore the brand new St. Louis Aquarium at Union Station. There was so much to do once we got there, we were glad that we had set aside an entire day for all the different activities. Not only does the St. Louis Aquarium take you on a journey "under the sea," it allows you to touch and see various aquatic friends up close. My kids loved being able to feel the stingrays, watch the otters swim and explore Shark Canyon. There was also an interactive water play table that all three of my kids (especially my youngest) adored. I'd have to say that the St. Louis Aquarium scored tens across the board for our family!
Travel Tip:
The aquarium has a limited amount of tickets that can be sold each day, so be sure to buy tickets online ahead of time.
Eager to see more of Union Station, we left the aquarium to explore. A short stroll away, we spied Soda Fountain, a cute old-fashioned diner with a modern spin. They have burgers, fries and the most scrumptious looking milkshakes. We took full advantage of the huge candy shop and snagged a giant bag of treats.
After more adventuring in Union Station, we swung by our hotel for a much-needed nap for the kids before heading to Cardinal Nation Restaurant at Ballpark Village for dinner. This spot was family-friendly and had a wide range of delicious food with an unforgettable atmosphere. From the onsite Cardinals Hall of Fame and Museum to the official retail store to the baseball-themed bathrooms, this spot is sure to please Cardinals fans of all ages.
Exploring all the go-to spots in St. Louis in one weekend meant that our days were jam-packed, but luckily there are attractions like City Museum that are open late, and we visited around 8 pm after dinner. While it was great to take advantage of the museum's late hours, I wish that I would have planned for a whole day of exploration. There was just so much to see and do, not just for kids, but for adults too! This hundred-year-old warehouse turned museum is full of secret passages, epic slides, little hideaways, ball pits and more. We had a blast exploring! It was also interesting to see how many items in the space were re-purposed and recycled into something else. As if this museum wasn't cool enough already, a school bus and Ferris wheel are the "cherry on top" of the roof of the museum.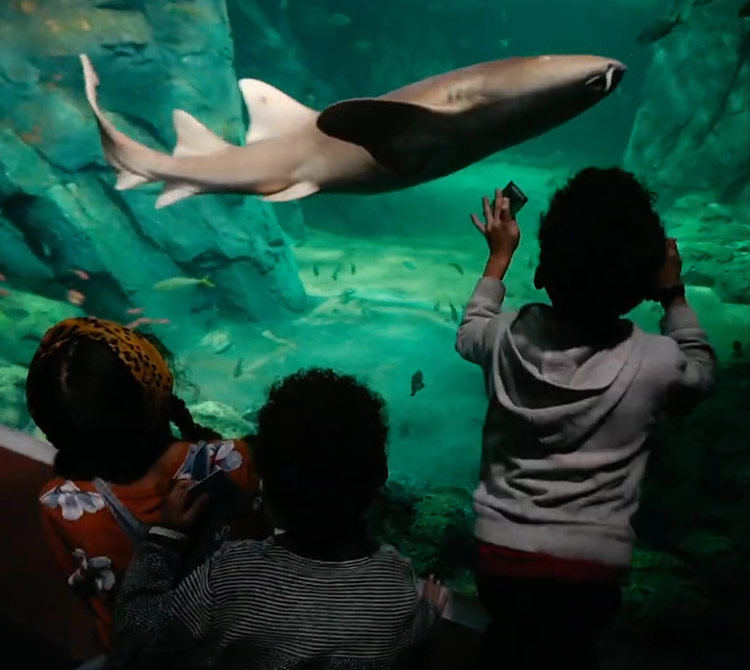 The magic of St. Louis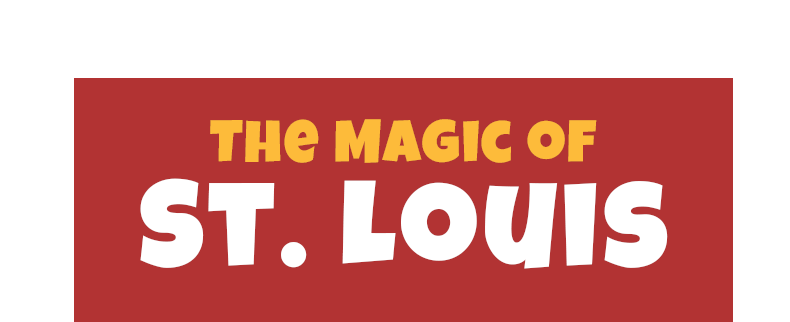 On our last day in St. Louis, we spent some time at The Magic House, which was, in a word, magical! We stepped inside, and all three of my littles exclaimed "Wow!" in unison. The Magic House is a children's museum with rooms and rooms of hands-on learning activities, and some of which change throughout the year. The first exhibit we explored was Argentina's Ninos (open now through August 23rd). Walking into this exhibit was like traveling straight from St. Louis to Argentina. From trying on traditional outfits to shopping at the market to creating artistic masterpieces, exploring this space was educational and engaging for our entire family.
Next, we moved on to the Curious George Exhibit (open April 22nd through May 25th). This space combined all the favorite characters of this classic into fascinating activities and spaces to explore. We could have stayed in this room for hours, but being short on time, we moved on and ventured further into the museum and soon discovered a room that was set up like a mini-city. There was a grocery store, a library, a pizza parlor, an auto shop (where you could actually "fix" a car), a pond to go fishing and the cutest ice cream stand complete with pretend ice cream scoops and ice cream cones. From the parental point-of-view, I appreciated that this space was enclosed so I wasn't worried about any of my kids getting lost. They had the freedom to explore each area at their leisure and hopped from space to space with ease. Happy kids + Worry-free mom = Perfect vacation activity!
All in all, I'd say our weekend excursion to St. Louis was a huge success. With so many spectacular restaurants and family-friendly activities, my little adventurers and I will certainly be back. St. Louis, you'll be seeing us soon!