The Loop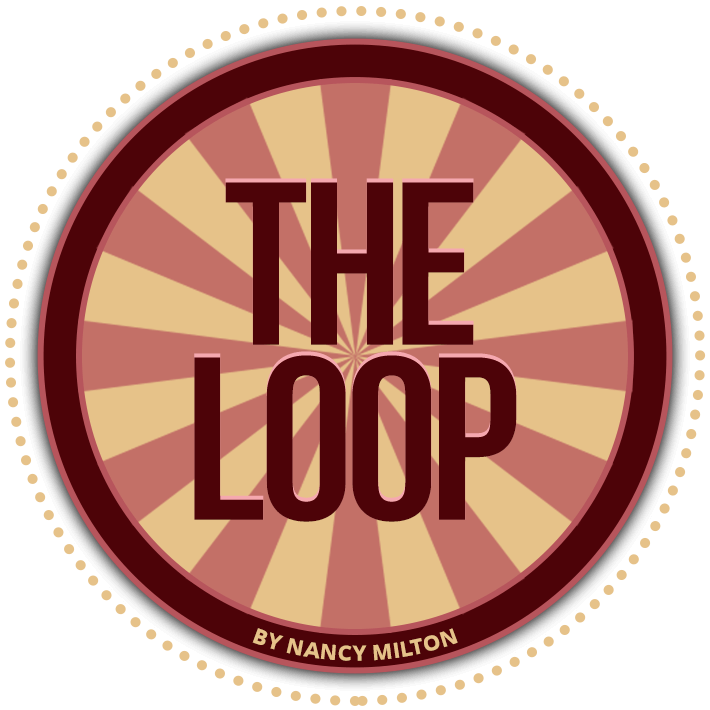 A weekend visit to The Delmar Loop in St. Louis
By Nancy Milton
When I need to decompress from a stressful week, there's nothing that heals my tired soul like a weekend visit to The Loop, St. Louis' most fun and funky neighborhood.
I called my friend AJ and asked if she'd like to take a stroll among the stars. She laughed and knew exactly what I had in mind—a day-to-night brush with greatness along Delmar Boulevard, the main drag of The Loop. More than 140 of St. Louis' greatest heroes are honored with brass stars and biographies embedded in the sidewalks along the street.
"Did you know," I asked her, "that actors John Goodman and Jon Hamm hail from St. Louis?" She did. "How about classic cinema's Vincent Price and pinup girl Betty Grable?" I asked. "Yes," she smiled and added, "And writers Maya Angelou, Tennessee Williams, Ridley Pearson and T.S. Eliot, too." We had played this game of one-upmanship before.
Sponsored Content

Read More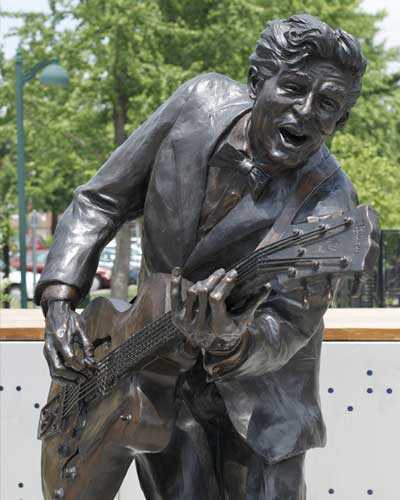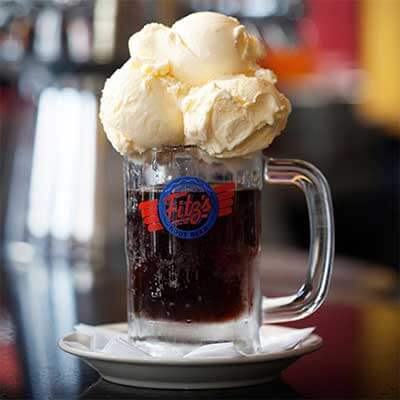 Food on The Loop
First on the agenda, we paid our respects to the Father of Rock 'n' Roll, Chuck Berry, at his statue next door to Fitz's Root Beer microbrewery. Cast in bronze and posed in his famous duck walk stance, the memorial drew us and other music fans to the spot across from Blueberry Hill where Berry played regularly when not touring the world.
We popped into Blueberry Hill Restaurant and Music Club to see Chuck's guitar, other artifacts from his life and the restaurant owner's remarkable collection of pop culture memorabilia that ranges from Howdy Doody toys to The Simpsons collectibles and everything in between. It doesn't hurt that Blueberry Hill has delicious hamburgers, too, and we split one topped with soft cheddar and accompanied by onion rings.
You can dine around the world in The Loop's restaurants. It was warm outside and the sidewalk table umbrellas had popped up like spring flowers after the rain. We St. Louisans love to dine outside and—like us—everyone seemed to be indulging in the al fresco pastime. While we window shopped in the one-of-a-kind stores along the six-block-long Loop, we found targets for our next small bites ranging from Middle Eastern, Thai and Mexican to barbecue, pizza, fondue and authentic Italian-style pastries. For a pair of food lovers like us, The Loop was a paradise.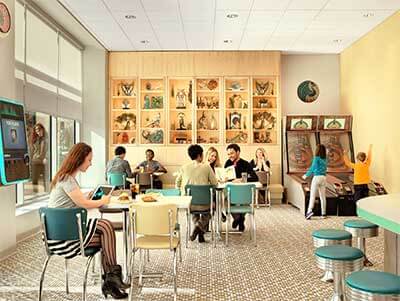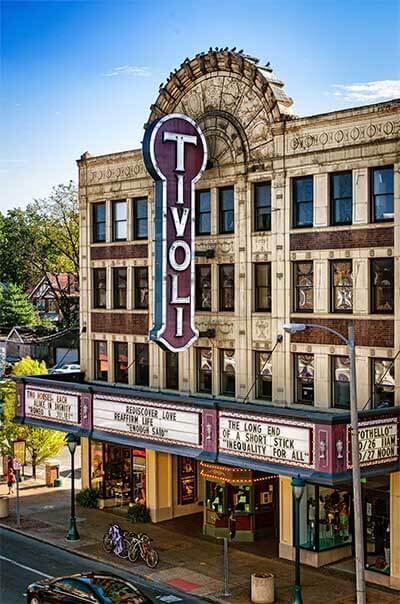 A ride on the trolley
Named more than 100 years ago after an old streetcar turnaround, The Loop neighborhood includes old and new attractions to the neighborhood mix. AJ and I hopped aboard the Loop Trolley for our first ride to see St. Louis the old-school way. These electric cars were made to replicate the look of 1903 trolleys, running on rails embedded on Delmar from the western end of The Loop to the Missouri History Museum in Forest Park. We stayed put for the 2.2-mile trip that makes 10 stops and connects with two MetroLink light rail stations.
Delmar Blvd., named one of the 10 Great Streets in America by the American Planning Association, is home to nearly 150 small businesses. The neighborhood is a bustling and diverse mix of people ready for a good time and local providers ready to dish it out. Next time we should plan a staycation at the neighborhood's Moonrise Hotel, I told AJ. How can you beat a place topped with the world's largest revolving man-made moon glowing on its rooftop?
Ready for cocktails, we stepped into Pin Up Bowl, a modern take on retro bowling, where we tried their signature martinis—chocolate for me and lemon for AJ—and tried to stay out of the gutters, literally, on the high-tech lanes. An afternoon movie at the Tivoli, the neighborhood's restored 1924 movie theater, let us relax while everyone else worried about errands and traffic. Decorated with posters from St. Louis-made or themed movies, the Tivoli is my favorite local theater and home to the St. Louis International Film Festival each November.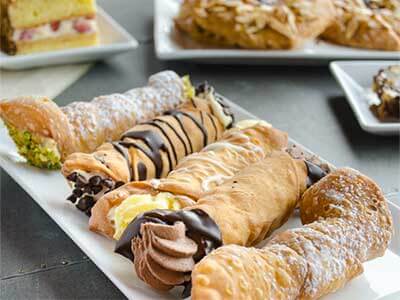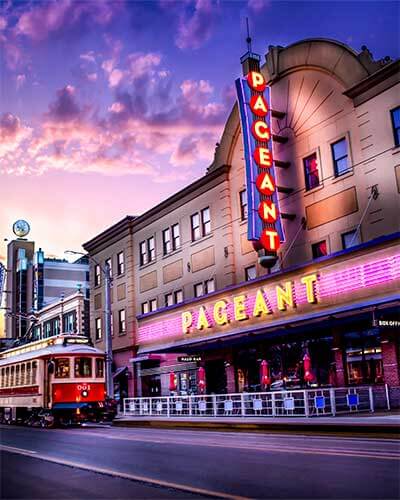 End of The Loop
After stops at two more of The Loop's 48 restaurants—this time for hummus at one and tacos at another—we bought tickets for a new indie band playing at the intimate Delmar Hall concert venue. Over the years, AJ and I have also seen bands at The Pageant Concert Nightclub, Delmar Hall's bigger next door neighbor, and the Duck Room—named for Chuck Berry's stage move—at Blueberry Hill.
We ended the night with Italian pastries from Piccione Pastry and a turn at singing our own diva-style tunes in the stylish W Karaoke Lounge where private rooms come complete with food and bar service. As we walked back to our cars, the sounds of our version of "I Will Survive" still ringing in my ears, The Loop's favorite street musicians lent a soft beat to the busy street.
With the last of our energy waning, the de-stressing complete, we stopped at Vintage Vinyl to look for music to take home along with our Loop-day memories.
Experience a day at The Loop in St. Louis