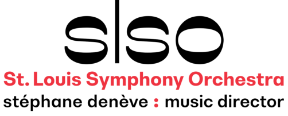 the st. louis symphony orchestra


St. Louis Symphony Orchestra, the country's second-oldest orchestra ushers in a new season with
Stéphane
Denève
By Jen Roberts
"Good evening, bon soir," Music Director Stéphane Denève begins as audience members quickly locate and settle into open seats.
Stéphane thanks the audience for attending the first SLSO Crafted—a happy hour concert with drinks, appetizers, and an opportunity to mingle with their favorite conductor and orchestra members.
"I only had sparking water," Stéphane continues, "because I have something to do here."
The audience laughs, many of whom still have a drink in their hand.
With the help of the St. Louis Symphony Orchestra, Stéphane then previews key melodies of Brahms' Fourth Symphony. "Some call it a German tango," he says before leading the orchestra through one section of the music. When the music becomes darker, he explains that it's reminder that "we are not alone, and the music is there to comfort us."
Stéphane sings through the next melody, which is joyful, "I'm happy, I'm happy," his voice follows the melody that is then echoed by the orchestra.
Stéphane began talking to audiences when he was the Music Director of the Royal Scottish National Orchestra. "It was natural because I wanted to do it, even though my English was even worse than it is now," he laughs.
"I don't have the talent to be a stand-up comedian, but sometimes I have a glimpse of that immense pleasure because I love when I feel people laugh," he says. "The timing of a joke is so important. If you do a joke with just the right timing and don't say anything, it's very interesting. It's very musical."


A New Beginning
When Stéphane took to the pitcher's mound in Busch Stadium, clad in his white Cardinals' jersey with Denève and the number 13 (because he is the SLSO's 13th Music Director) embroidered on the back, it was clear that a new era of SLSO was being ushered in with that first pitch.
The 2019/2020 season marks the 140th for the SLSO, which is the second-oldest orchestra in the country, and its first with Stéphane as the Music Director. The decision to come to St. Louis "felt very natural," he says. "I kept coming back to St. Louis as a guest conductor because there was an extreme care for music. I always had the feeling that here I can really express myself."
What surprised Stéphane is how much fun the orchestra has together. "We laugh a lot," he says. "It's very rare. Unfortunately, sometimes orchestras are not so easy, but here it is very, very friendly."
"It's famous for that, by the way. A lot of soloists and conductors who come here say 'what a friendly orchestra,'" he adds.
Perhaps it's a Midwest thing.
"I would like them to come to the concert like they would come to my living room to listen to music together."


A Shared Experience for All
While unexpected, the hand fans featuring Stéphane's face that were given out at the orchestra's annual Forest Park Concert represent the proximity that he would like to have with each audience member. "I like this feeling that we are a group of friends listening to music together. Of course when you have 20,000 people, it's not possible to have this individual feeling. The fans were a way to be as close to people as I would like to be," he says. "I would like them to come to the concert like they would come to my living room to listen to music together."
Music, for Stéphane, is a communal experience and making sure that everyone feels welcome is one of his biggest priorities. "I think we do this very well, but I'm not a revolutionary man—they did a great job before me. I embrace this idea that the SLSO is your St. Louis Symphony Orchestra," he says.
"Accessibility to me is also linked to the fear that people may have that the place is too fancy, too grand, too whatever—so let's make it cool," he says. "You don't need to be nervous that you will not understand."
"People should come as you are. You don't have to worry," he urges.
He does think doing a bit of preparation ahead of time will enhance the experience. "You can intensify your enjoyment just by knowing more."
This year ticket prices start at $15, and audience members can continue enjoying their non-iced beverages purchased on site in SLSO Keep Cups in the auditorium. There is an impressive lineup of contemporary artists—including Ben Folds and Kennedy Holmes—and a return of the popular movie night concerts with Raiders of the Lost Ark and Star Wars: The Empire Strikes Back.
"I dream that we will always welcome families at every concert. If you are grandparents, you can bring all your grandkids," he says.
"It's a healthy diet between the old and the new. It's the same for theater, movies, so why on Earth would classical music be different?"


Introducing New Music
The season includes two world premieres, one U.S. premiere, and 16 works by living composers. "I do not do it as a kind of moral mission," Stéphane explains. "I do it because I see pieces written today that reflect our time. If you love it, you want to share it."
"For every other art form, you read Flaubert or Shakespeare, but of course, you want to read the latest, greatest novel. It's a healthy diet between the old and the new. It's the same for theater, movies, so why on Earth would classical music be different?"
The season closes with a Cello Concerto by Guillaume Connesson, a French composer Stéphane adores. "I feel it is a master work and it happens to be of our time." Working with a contemporary composer gives him the opportunity to discuss the piece with its creator, resulting in an exceptional performance.


Engaging the Community
The SLSO continues its community engagement programs, bringing music into schools, places of worship, and perhaps your neighborhood, while also inviting the community to concerts at Powell Hall through several initiatives.
Stéphane also hopes to use music as a catalyst for good in the community. "To me, this feeling of being the figure of the orchestra and now the strange responsibility [that comes with it], is sometimes scary for me, but I hope to do some good things for the community."
Right now he's listening to the community so that he can better understand, and he assures, "I will not run for mayor, but I feel there is a possibility to engage the community. I will be careful because I am just a musician, but still that is something I am looking forward to immensely."