Get Your Kicks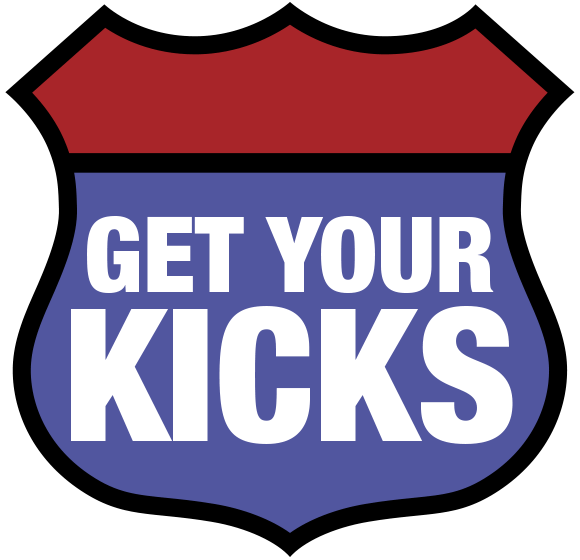 Relive the glory days of day tripping on the Mother Road
By Leo Martin
St. Louis
It seemed fitting that the Mississippi River was nearly at flood stage on the day my wife, two kids and I decided to cross the Chain of Rocks bridge.
The roadway, which bends at an interesting 30-degree angle, was slated to open on New Year's Day in 1929 but instead opened that July because of construction delays due to ice and flooding.
Much has changed since then. The bridge has acquired rust, mystique and a listing in the National Register of Historic Places. Cars are also no longer allowed.
But just as when the bridge opened almost a century ago, people—including my family—remain interested in journeying to new places.
So on a Friday morning, we parked our car in Madison, Illinois, and for the first time, walked to the bend in the bridge and looked down upon the high water moving steadily below us. It felt like the right start to a throwback day trip on the Mother Road, also known as Route 66.
Learn more about Route 66 in St. Louis.
One of the original roads on the U.S. highway system, the route started in Illinois and ended at the Pacific Ocean in Santa Monica. In Missouri, Route 66 is like the character James Bond or the film A Star is Born in that there are a number of different versions, each road constituting part of the route in a particular era. Unlike the Hollywood variations, no one around St. Louis seems to argue about which route is best.
After walking back to our car, we drove across a more modern bridge from Illinois to Missouri. Despite protests from my 12-year-old daughter, Callie, and 10-year-old son, Charlie, I tuned Spotify to the Rolling Stones' cover of Chuck Berry's "Route 66." My wife, Sam, told our offspring that we would soon be stopping for lunch and malts, and that in the meantime, this was what would be playing on the car radio. They seemed fine with the compromise. (We could all get our "kicks on Route 66.")
Crown Candy Kitchen is like Shake Shack if the chain had opened in 1913 and been cryogenically frozen in time. Pass under the striped green awning and walk to the counter where a menu board lists desserts before lunch items, which makes perfect sense and is something I think all restauranteurs should consider. It includes intriguing options like the fruit salad sundae ("It's good for you. Two scoops of vanilla ice cream lie under a cascade of fresh & frozen fruit," the online menu explains.) or the Uncle Sam featuring two scoops, strawberry and pineapple sauce, chopped bananas, crushed nuts and whole pecans enveloped by whipped cream. I opted for the classic banana split, which was fantastic. For $1.50 extra you can make your sundae a Newport, which means they'll force you to loosen your belt buckle by adding extra whipped cream and pecans. But avoid the temptation of skipping straight to dessert and order the Heart Stopping BLT. (Just forget to mention that at your next visit to the cardiologist.)
See all the best sights in St. Louis with a tour.
We drove west along the route into Maplewood, a St. Louis suburb featuring a fun downtown with plaques that inform you about the local businesses that served people driving through 80 years ago. It was perfect for photos and an afternoon stroll.
The walk piqued our interest in the history of American travel, so we decided to tour the National Museum of Transportation, which fittingly is just off the Mother Road. For car enthusiasts like me and my wife, Sam, this was the spot. (It was also budget-friendly: $12 for adults; $5 for children ages 3 to 12.)
The large collection features vehicles such as a 1919 Ford Model TT, which is like the Model T but with a stouter frame; a 1925 Autocar that actually ran on Sutton Avenue, a street we had just been exploring in Maplewood; and lastly, a DiDia 150, better known as the Bobby Darin "Dream Car" because there was only one built, and its second owner was the singer. The ruby red frame has rear fins like the Batmobile. I searched in vain for the button to make it fly.
We hopped back in my slightly less sleek Toyota Camry and drove to Route 66 State Park to take a look around its visitors center and go for a quick hike. The center had a sign for the Pennant Hotel advertising a family rate of $2.50. Where was that deal on Priceline?
The trail led us to the Meramec River, a perfect spot to take in the sunset. Carrying some new Route 66 gear from the gift shop, we hit the road for our final destination: the Chase Park Plaza Hotel, where we would be staying for the night. The luxury hotel was built in 1922 and its art-deco style and marble floors evoked the glamour of a bygone era.
Explore St. Louis' rich heritage.
After a great meal at the Chase Club under an ornate, powder blue ceiling—Charlie said the short rib mac & cheese was the best thing he had ever eaten—I ordered an old-fashioned at the bar. I felt like I could have been a 1920s salesman, making a quick pit stop on my to journey to riches in California.
Fortunately, mattress technology has improved since then because after a day of travel and a whiskey cocktail, I was drowsy. Our room at the Chase, which is a Sonesta International Hotel, was the ultimate in comfort, and we slept wonderfully. After a bit of time travel through the history of Route 66, I woke up reinvigorated and ready to tackle the present.
Take a trip filled with all things Route 66.