The Great Rivers & Routes Getaway
A couple looking for a weekend getaway from Chicago shares their favorite things to do on Illinois' Route 66 and the Great River Road.
A Chicago couple shares their favorite way to explore Illinois' Route 66 and the Great River Road
As Chicagoans, my husband and I are lucky to have many options when it comes to weekend road trips. We've explored just about every place within a day's drive, but our absolute favorite, time and time again, is taking Route 66 to the Great River Road. History, natural beauty, Americana—this trip has it all, and while there's no wrong way to do it, here are some of our favorite stops along the way.
This trip has it all, and while there's no wrong way to do it, here are some of our favorite stops along the way.
Get your kicks
I know the fun's about to start when we enter Virden's adorable downtown. Driving past the quaint storefronts, I immediately feel like we've traveled back in time. That feeling is only amplified just down the road at Jubelt's. Open since 1922, Jubelt's offers time-tested classics like hand-formed burgers, club sandwiches and biscuits and gravy. But they aren't limited to those staples. Their menu is extensive, even before you look in their bakery case. Grab a cinnamon roll and some custom decorated cookies—they just don't make 'em like this anymore, or so I thought before going to Jublet's.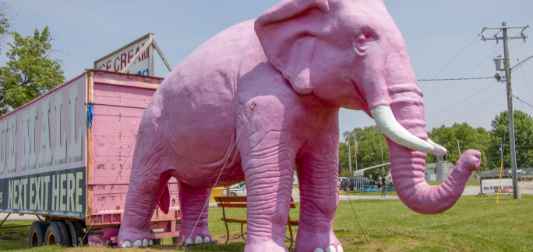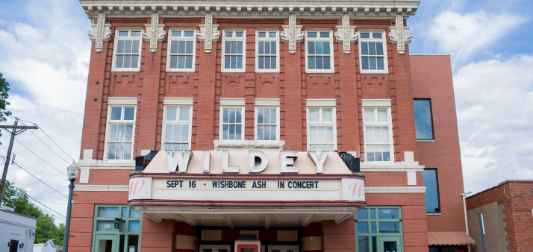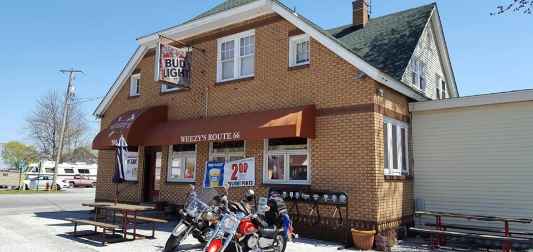 A trip down historic Route 66 wouldn't be complete without some roadside attractions. Henry's Ra66it Ranch, a hop-skip-and-a-jump from Jubelt's, is one of our favorites. Home to everything rabbits, the ranch began after the owner's daughter's pet rabbits decided to start breeding like, well, rabbits. Henry embraced the population boom, though, and now visitors can interact with all manner of rabbits—from fluffy bunnies to Volkswagens. Be sure to snap some pictures atop the giant jackrabbit statue, and don't forget to pay your respect to bunnies past in the rabbit cemetery.
Route 66 is as much about the journey as the destination. Back on the road, I focus on the old buildings and road signs that harken back to a simpler time and make me feel like I'm truly getting a break from city life.
Driving along, Pink Elephant Antique Mall, with its enormous pink elephant statue out front, is an eye-catcher. I'm always on the hunt for one-of-a-kind housewares, so this place is a must for us. I could spend an entire weekend looking through the shop, but if I exercise restraint then I reward myself with something from Twistee Treat, the onsite ice cream stand and diner.
Soft serve from a giant soft serve cone—who could resist? My go-to is the Turtle Sundae.
When we're ready for something savory, we head to Weezy's Route 66 Bar & Grill in Hamel for burgers and fries. I love Chicago, but getting out of the city always gives my husband and me a chance to reconnect, and there's something about the easygoing vibe at Weezy's that just helps it all click.
After a long day of driving and eating, it feels good to stretch your legs. In Edwardsville, more than 125 miles of trail, mostly paved, are waiting to be explored. Sometimes we bring bikes with us, but walking is good, too. There's nothing like that warm summer late-afternoon breeze, the magical quality of light that reflects off of the green of the countryside, to transport me into full vacation mode.
A night in Edwardsville isn't complete without a visit to the Wildey Theatre. Comedy, live music, classic films—whatever's on the bill, count us in. Originally designed as an opera house in 1909, the theater has been redeveloped and restored to its role as a downtown fixture.
Birth of cool
We like to start day two with a short drive to Cahokia Mounds, a UNESCO World Heritage Site where visitors can explore the remains of the most sophisticated prehistoric native civilization in the United States. If you time it right, the guided tour is absolutely worth it. If you don't time it right, don't sweat it. The self-guided tour is great, too. Learning about the Mississippians who built and maintained this incredible urban development so long ago is truly eye-opening, and it always gives me a whole new appreciation for the region.
Nearby Collinsville is the perfect place for lunch. We like Fazzi's when we're in the mood for Mediterranean and Bert's Chuck Wagon when classic American fare sounds best. Regardless of where we eat, we always end up at the World's Largest Catsup Bottle. Gazing at this giant structure, I can't help but marvel at the short distance between ancient civilizations and modern achievements in roadside kitsch.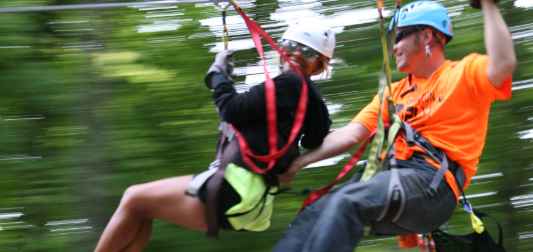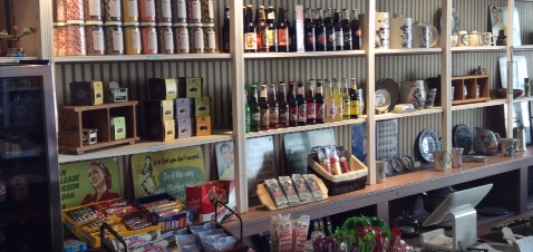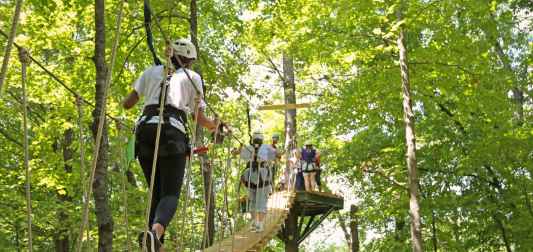 The second night of our trip is often spent in Alton. We check in, walk around town, and stop by the Robert Wadlow Statue to pose for a picture next to the world's tallest man. As jazz fans, Alton is an extra special place for us, as it's literally the birthplace of cool. Miles Davis was born in Alton in 1926, and a statue in the Miles Davis Memorial Plaza honors his legacy.
After paying tribute, we follow the river to Elsah. A walk through the beautifully preserved historic downtown and reveals why this village of less than 1,000 people is on the National Registry of Historic Places.
When we're feeling adventurous, and we often are, we continue our journey up the Great River Road to Grafton. The Grafton Zipline at Aerie's Resort is the perfect place to feel the rush of flying through the air while taking in stunning views of the forest and river.
We like to steady our nerves with a different kind of flight from one of Grafton's wineries.
Back in Alton, the local beverage experience continues with beers and dinner at Old Bakery Beer Company, followed by a sweet stop at My Just Desserts. Depending on our mood, we might catch a performance at the Alton Little Theater. We like to finish out the night in Alton with a round or two at Fast Eddie's Bon Air, an old school dive that never fails to transport me straight back to my ill-spent youth in the best way.
As jazz fans, Alton is an extra special place for us, as it's literally the birthplace of cool.
Come together
Day three of the trip is for exploring the Great River Road. We stop often to snap pictures and take in the scenery, and I love the feeling of driving right along the waters of the Mississippi—it's the closest thing to a river cruise you can experience on land. One spot we never miss is the confluence of the Missouri and Mississippi Rivers. This was the starting point of Lewis and Clark's epic journey across the western United States. In Pere Marquette State Park, there's another important confluence—the place where the Illinois River meets the Mississippi. Here, we take time to enjoy the wonders of nature. More times than not, we've even spotted a bald eagle.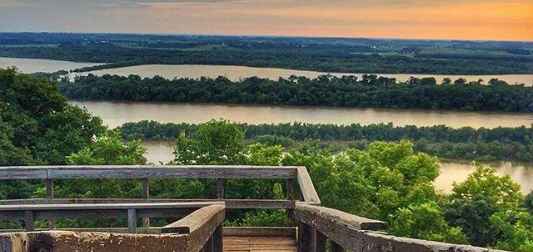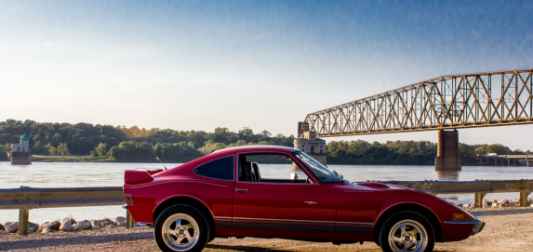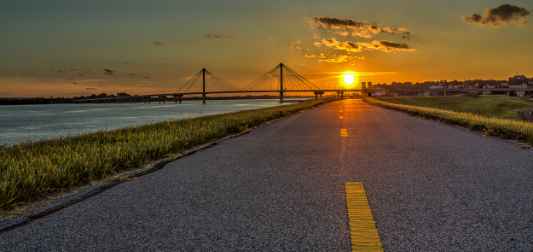 The Pere Marquette Lodge and Conference Center is the perfect place to call it a night. Built in the 1930s by the Civilian Conservation Corps, the impressive limestone and timber structure has a cocktail bar, gift shop, saunas, and other modern amenities.
On the way home to Chicago, we make a point of squeezing in one last stop—Taylor's Mexican Chili Parlor in Carlinville. Serving up flavorful chili since 1904, Taylor's has been bringing the flavors of Mexico to Illinois tables for more than 100 years. My husband and I always pick up a few cans to take home with us.
There's so much to see on this great stretch of rivers and routes. It can be hard to choose what to do and what to save for next time. Our attitude is always, do as much as we can for now, and know that next time will be here before too long.